Saying Goodbye –
I can't say that it was horrible or tragic. Those aren't the right words. I knew this day would come. It was, however, the most heartbreaking moment of my life. I came home from the Vet to an empty home, her over-stuffed bed in the corner and toys strewn throughout the room. No greeting at the door. No wet nose against my leg – a sniff just to make sure it was really me, followed by twirls of joy at my arrival. Instead, it was quiet and still. I sat on the crouch, unable to hold back the tears any longer. I didn't cry; I wailed.
Since I don't believe in an afterlife, I resisted the temptation to convince myself that I would see my dog again someday. I wanted it more than anything. I still do, but as much as I wanted comfort, I yearn for truth.
I hope I'm wrong. In the end, I hope there is a beautiful place we all go to reunite with our friends and loved ones. But I believe there is something immoral about betraying the truth in order to cope with loss. I can't allow myself to believe in an afterlife just because I want it to be true.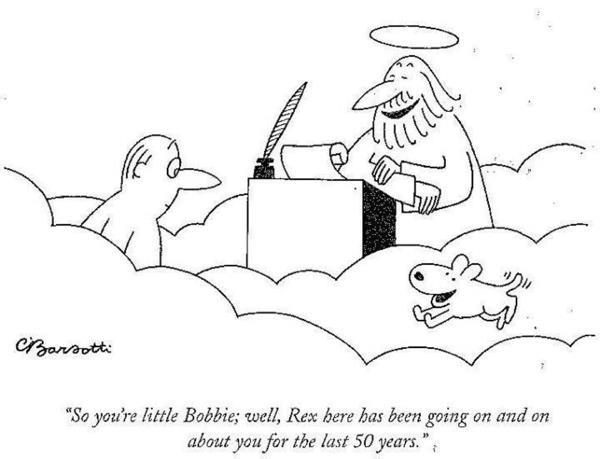 I couldn't shake the image of a single pane cartoon I saw a few years ago by the Late Charles Barsotti of the New Yorker. It's a very simple drawing depicting an old man in heaven as he is reunited with his boyhood friend.
I got her as a puppy and immediately fell in love. She was my first dog – a tan ridgeback mix that grew into a lovable one hundred pound bear that never barked and was kind to everyone. Since I was a child I dreamt often of having a dog, but it wasn't until my late 30's that I was in a position to responsibly care for one; a house with a yard, working from home and plenty of time to spend with her. She was exactly the dog I dreamt of; loyal, playful, sweet and extremely affectionate. She loved jumping over the waves at the beach and long hikes. We went everywhere together.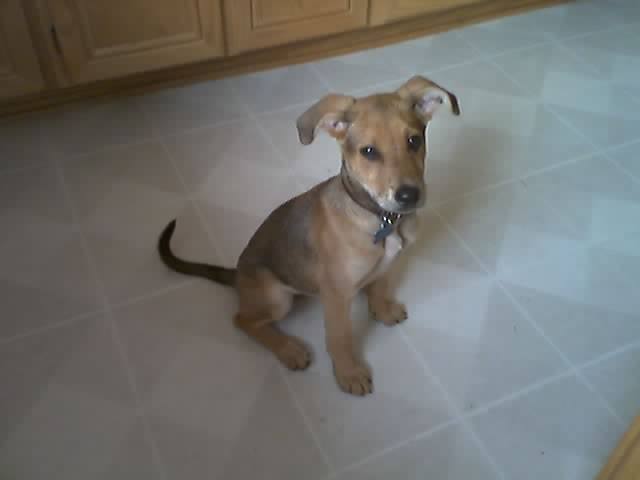 I named her Fiducci, which is a play on the Italian word, Fiduccia, meaning loyalty. It's kind of a strange name, I know, and after a while I began to call her almost anything else; Hooch, Doochi, Gabagooch, Bella, Dumbass and when she got older, Mamma.
I loved Mamma every bit as much at eleven as I did when I first found her at the shelter. She had been with me through the good times and the bad. No one will ever know how difficult things were for me at one point in my life, but she was there, every day, bringing a laugh or smile to my face—every single day.
As dogs do, she woke me up at 5am every morning and we immediately set off to the park, before the rangers arrived so we could avoid an off-leash citation. We'd come back through downtown to see her friends; the three retired men with their coffee and hidden doggy treats, the coffee shop with their not-so-hidden treats and the old African American couple by the trolley station, handing out religious pamphlets to those passing by. They all loved her and she couldn't wait to say hello to them each morning.
In the evenings we would walk to another park in the Marina district with a huge grass area, completely empty at night. She was happy to roam and explore the smells of the ocean. She couldn't resist her nightly plunge into the frigid San Diego Bay, providing entertainment for the tourists. I'll always remember lying on the grass there, my head resting on her back as she gnawed on a water bottle or stick. I could see the lights of Mexico through the Coronado Bridge, Coronado island to the right and downtown San Diego to the left. Above all, I loved watching the stars straight above. It was our moment of Zen; well, mine at least.
Since I work online, I had opportunities to travel, which I wanted to do very badly. I made a few trips without her, but I couldn't give her up to become the nomad I wanted to be. Nor could I take her with me. The experience of flying would be too traumatic. A few friends said they'd be happy to take her, but I made a commitment to this wonderful animal. I would stay with her for as long as she lived. I made that decision when she was a puppy and never wavered.